Ohen we think of shellac dolls, the first thing that comes to mind is Birbhum's shellac dolls. The Nuri community of Ilambazar was once famous for producing pretty shellac dolls, as it was readily available in that region. Artisans collected in small communities the lacquer that was left after mass production, extracted from the sticky dye of the insect's body which they mixed with clay and various colors. This mixture was used as a coating to produce attractive dolls. With the decline of the shellac industry in Birbhum due to a shortage of raw materials, the future of this doll production is somewhat uncertain. Yet they are made.
The gradual decline of this art of toy making was not lost on even Rabindranath Tagore, who had devoted his efforts to restoring this declining industry. At his invitation, an artist from the Nuri community came to Sriniketan and started organizing training sessions for interested art students. It led to the revival of the production of various types of shellac dolls and fruits in accordance with centuries-old processes. A distinctive feature of these dolls is their shapes.
Some showed a mother with a child in her arms, a woman tying her companion's hair, a man husking paddy, a mahout riding an elephant, a rider and an endless variety of fruits such as mango, custard apple, lychee , bitter gourd and several types of lemons. But with the gradual cessation of the culture of the lake and the lack of enthusiasm of the artisans, this old traditional industry is about to exist.
While the industry has almost disappeared from Birbhum, another type of dolls covered with a layer of shellac has sprung up in Bankura and Medinipur districts. The center of production of these dolls was Shankharibazar of Bishnupur, from where dolls painted with shellac were transported to be sold at village fairs during religious festivals.
The production of shellac painted dolls is quite common in Medinipur and artisans do not just sell them in local markets. They sell them in large numbers at various fairs in Orissa, such as in Baripada where there is a huge demand for these dolls. The demand increases especially during the Rathayatra festival. Meanwhile, there is turbulent activity among the women of these families, female workers in Panchrol under Egra Police Station and Kharui Bazaar under Patashpur Police Station. These two villages are close to the border of Orissa.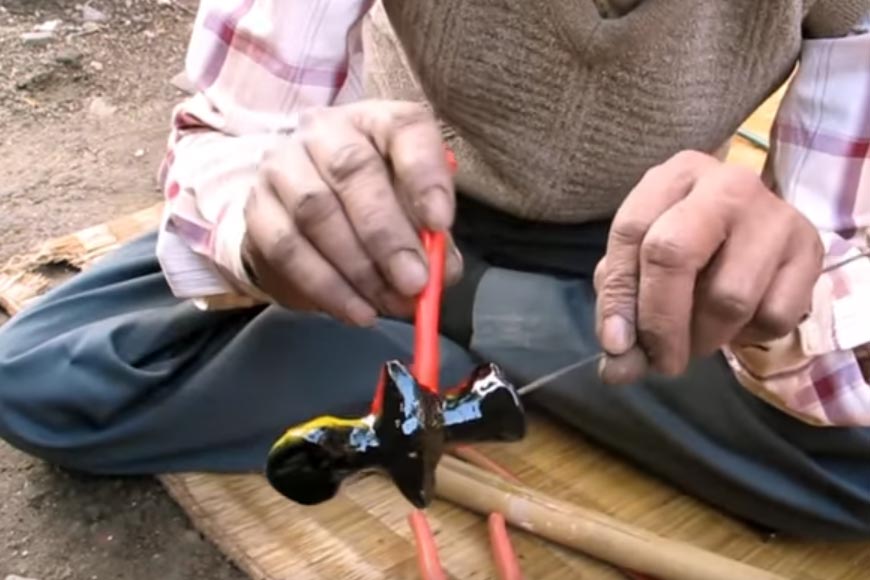 About 3-4 families are still in the doll business. The main attraction of these dolls is the wide assortment of colors, which are made exceptionally bright thanks to the skilful mixture of shellac and paint. The production process of these dolls is also quite amazing. First, a figure is constructed from a piece of clay with the fingers, without using molds. As a result, the dolls bring out a spirit of simplicity. Artisans also produce dolls resembling animals like elephants, horses, deer and oxen, idols of various gods and goddesses such as Balaram, Subhadra, Narugopala, Ganesh, Manasha, kings and queens and horsemen . All of these dolls are usually 5-15cm tall.

Soil collected from white anthills in and around villages is soaked in water and stored in pots or earthen basins. The advantage of this collected earth is that it does not contain gravel and also has an adhesive property. The soil is further kneaded with the hands to rid it of small particles of gravel or brick. This procedure is locally called chanchi. Once the root ball is dried to an optimal extent, the craftsman begins to use all ten fingers of his hands to begin his craft. The finished doll is first baked in a home oven and then painted in selected colors. For this last operation, pencil-like sticks of painted shellac are first prepared. Shellac sifted in required quantity is mixed with powder paint of desired colors, and the mixture is heated over a fire to produce these sticks. They look like long wooden pencils and are normally four colors — red, black, yellow, green.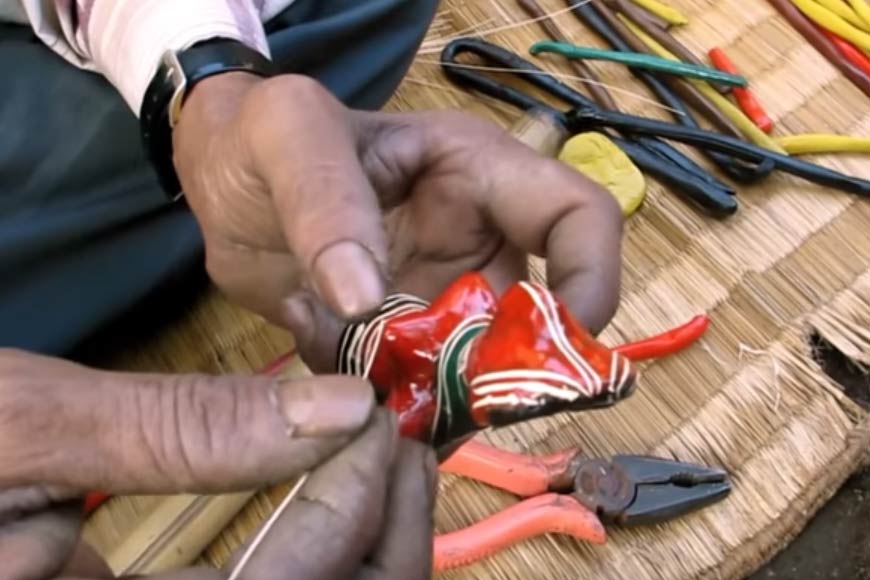 In the next step, the dolls are stacked in small earthen containers before being heated in a charcoal fire. Usually an earthen pot is cut crosswise and its top is angled to serve as a receptacle for the charcoal fire. Bamboo pipes are used to blow air through the mouth so that the fire does not go out. As the doll is heated to the desired degree, it is inserted into a bamboo kamrha where it is held and painted. Crafters generally prefer to paint the front sides of the dolls red or green and the back sides black. Then thin threads of shellac are removed from the sticks of yellow shellac and while still warm these threads are used to provide decorative clothing and ornaments for the dolls. The operation of removing shellac strings from colored shellac sticks is called guna work. Yellow strings are then rolled into balls to serve as eyes and black dots are inserted on them as pupils.
(Data from West Bengal Folk Arts and Artists Community by Tarapada Santra)