Former US Army pilot Harold C. Brown was given a rag doll by a woman in London in 1944, to bring him good luck. Brown wore the doll on 63 flight missions. (Photo submitted)
JANESVILLE, Wisconsin (Tribune News Service) – Harold C. Brown was a pilot, 19 years old and on leave from the United States Army in the spring of 1944. He found himself in London in military uniform, speechless and staring at gray sky as a squadron of German bombers soared above them in an air raid.
As the townspeople scrambled for safety, a London woman who Brown did not know wore a necklace to Brown and convinced the US soldier that he should evacuate with her to a bomb shelter. bombs.
What the woman did next was as unusual as it was unusually kind – and it stuck with Brown for the rest of her life. She handed Brown a small rag doll for kids with black eyes, rosy cheeks, a floral print and polka dot beanie and body.
On the doll, the woman has inked a simple sentiment: "Happy Landings".
The post was specially crafted for Brown, who at the time of his meeting with the London woman was an army pilot who had yet to complete his first combat mission. He would soon.
The London woman's gift of the rag doll to Harold Brown is one of dozens of trinkets collected over the past two decades by the Wisconsin Veterans Museum as part of "Souvenirs of Service," a new display of war memorabilia – and the stories behind them – which the Madison Museum plans to unveil on November 5.
Brown died in 2013 at the age of 89. He had donated the rag doll to the Veterans Museum along with flight logs and other photos in the early 2000s.
In his own voice, the aviator tells the story of a doll
Museum curator Kevin Hampton said Brown's story is one of the most fascinating and detailed examples of war memorabilia he has ever encountered. For this reason, Hampton expects the item, along with related materials and a recording by Brown telling the doll's story, will likely remain on display for most of the show.
"I always tell everyone that the Wisconsin Veterans Museum is the microphone," Hampton said. "So we are very lucky. We not only have an object of Harold Brown, but we also have some archival material and we have his photo. So we know what he looked like and a few other things, as well as an oral history … the whole story was told to us (by Brown) in his own voice.
One of Brown's first missions was on his 20th birthday – a bombing and dive bombing operation over Normandy, France. The date was June 6, 1944: D-Day. Then he flew another 66 missions aboard a P-47 – a hybrid fighter / bomber model used in aggressive bombing.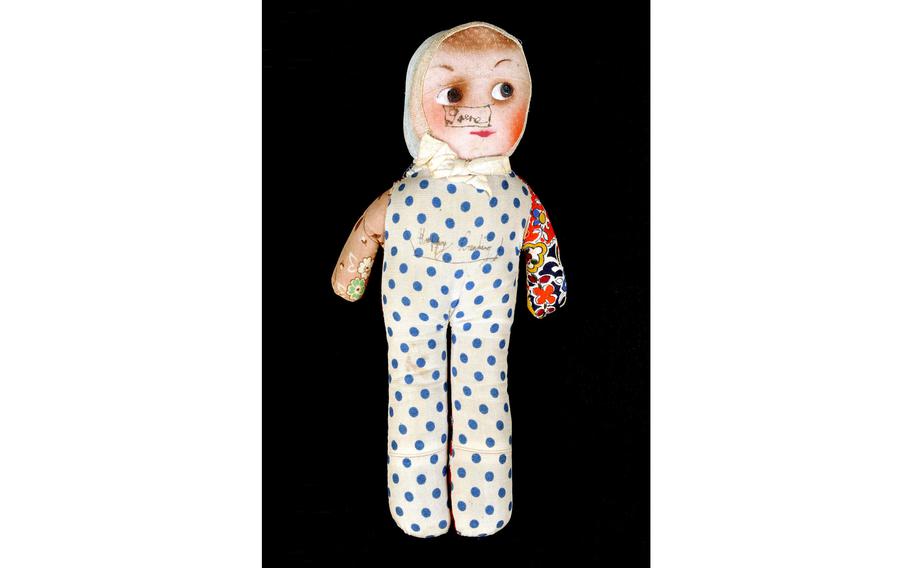 Former US Army pilot Harold C. Brown was given a rag doll bearing the words "Happy Landings" by a woman in London in 1944. (Photo submitted)
Brown survived all of those runs, although not all of the landings were happy. Three planes he flew crashed in combat, Hampton said.
After World War II, Brown for years led a group of Wisconsin National Guard soldiers stationed in Janesville.
Newspaper details grueling flights
Most American combat pilots of the day estimated that they would survive an average of about 12 missions before being shot down. Brown, in his own diary entries at the time, said he was one of three pilots in his squadron to survive the European tour at the height of World War II.
A glimpse into Brown's archived flight log – written in scribbled cursive that is sometimes difficult to decipher – shows Brown laying out in plain, realistic language vivid tales of battles and other pilots he knew who didn't. survived their missions.
In one of these entries, Brown recounts a conversation he had on the radio with another pilot from his squadron who had been shot down over Lake Steinhude in southern Germany. He only identified the lost aviator by his last name: McDonald.
"I tried to get altitude, but it was too low," Brown wrote. "Last seen trying to get home." Final words: Tell my wife not to worry, everything will be fine. He really had guts.
On a few other occasions, Brown had to deal with aerobatics at such high altitudes that his plane's engine shut down for a few minutes, making it easier for enemy planes to focus on him. He narrowly escaped the fate of some of his friends more than once, he writes.
In other records, Brown admitted he was a scared young man – scared, like many other young soldiers at the time, not to survive the war.
It gives such gravity to the story of the 1944 London woman and her unique lucky gift to Brown, Hampton said.
"If you had met him in the attic, not even knowing anything, if he (Brown) had never told the story, you would never know what this doll is about." It doesn't make sense because it's obviously not military. It's a rag doll, "said Hampton. "But it's only because we had the interview with him (that) we know its deep and deep meaning."
Hampton said that during the war Brown treated the English woman's rag doll as if it were an ancient protective amulet. Years later, he told his friends and family he thought it brought him luck. He protected it all his life, storing it for years in the sock drawer of a dresser.
When Brown's rag doll goes on display to the public on November 5, with the story told in its own words – alongside dozens of war memorabilia from other Wisconsin soldiers – Hampton said people would recognize her by any means. following.
Much like Brown did, the museum decided to display her rag doll in the drawer of a wooden dresser, neatly tucked among folded socks. This is the way so many memories are kept.
"I always tell everyone, it's the humanity behind the story that makes the difference. Humanity is history, "said Hampton.
(c) 2021 The Janesville Gazette (Janesville, Wisconsin)
Visit The Janesville Gazette at www.gazetteextra.com
Distributed by Tribune Content Agency, LLC.